BIG Menu Widget
$

9.00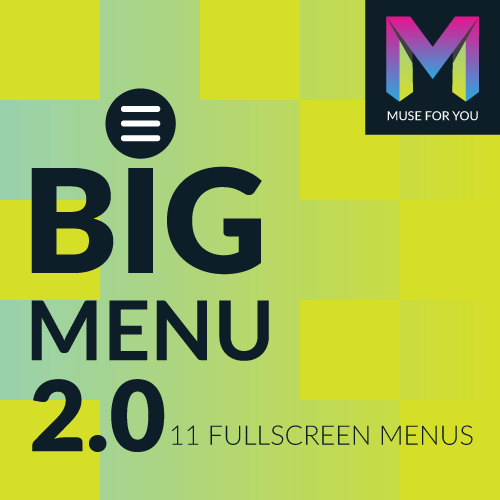 11 different Fullscreen menus for your Adobe Muse website. Fully responsive to work on desktop, tablet, or mobile. Visit preview page to see all menus.
Changelog
BIG Menu Widget 1.1:
Ability to choose how many menu items you would like in the menu. Add up to 8 menu items.
Ability to change font-size in menu.
BIG Menu Widget 1.2:
New widget interface.
Add up to 12 Menu Items.
Removed Google Fonts.
Ability to change the font type via the built-in Adobe Muse "Text" option.
Ability to make any of the colors transparent.
Built-in Anchor Point Scrolling with up to 32 different easing options.
BIG Menu Widget - 1.2 - 6-17-2016:
Ability to have the menu close when a menu item is clicked.
BIG Menu Widget - 2.0 - 1-4-2017:
New Widget Interface.
New Widget Cover.
Ability to add an image for the menu open and menu close buttons.
Ability to set the size for the menu open and menu close button.
Ability to rotate the open and close button on hover.
Ability to close menu when clicking on overlay.
Ability to add tracking (letter-spacing) to text in menu.
Ability to add text decoration to menu items on hover.
Ability to open links in a new page.
Fixed issue where anchor point links in Adobe Muse were causing the menu to open.
Removed image cursor options.
Included "Linking - More Info" section for easy reference on linking menu items.
Included reference on how to change the font for the menu within the widget.
Updated code.
BIG Menu Widget - 2.0 - 1-4-2017:
Adjusted distance between menu items.
Share