Responsive Lightbox Gallery Widget
$

9.00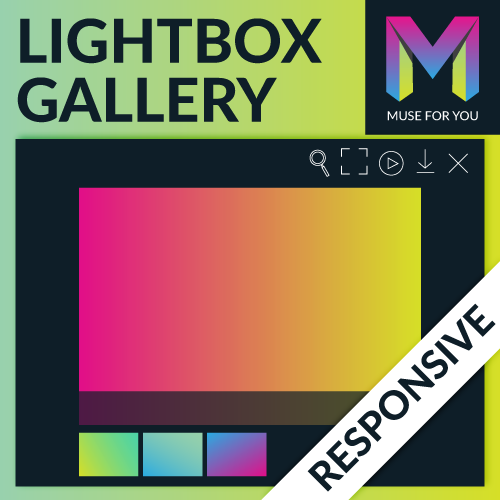 The Responsive Lightbox Gallery is a completely customizable lightbox gallery for your Adobe Muse website. You can use the gallery for images, Youtube videos, Vimeo videos, and html5 videos. You can customize all of the colors in the lightbox and choose from various options in the lightbox gallery. Add an unlimited amount of items per gallery and add as many galleries as you would like to your website. Initially the items are shown as thumbnails and then when a thumbnail is clicked on it goes to the lightbox gallery. The thumbnails and lightbox are fully responsive.

Features Include:
Fully responsive.
Touch and support for mobile devices.
Mouse drag supports for desktops.
Double-click/Double-tap to see actual size of the image.
Add unlimited amounts of items per gallery.
Combine images and videos in gallery.
Add multiple galleries.
Animated thumbnails.
Youtube, Vimeo, and html5 video Support.
20+ Hardware-Accelerated CSS3 transitions.
20+ Easing transitions.
Full screen support.
Supports zoom.
Browser history API.
Responsive images.
Lightweight
Multiple instances on one page.
Easily customizable via widget options.
Smart image preloading and code optimization.
Keyboard Navigation for desktop.
LATEST VERSION
Responsive Lightbox Gallery Widget - 1.4 - 10-20-2016:
Performance Improvements.
Re-introduced HTML5 video.
Ability to have the caption stay at the bottom of the Lightbox rather than on top of the thumbnails.
Ability to remove the fullscreen, zoom, and autoplay icons within the Lightbox.
Ability to remove the counter within the Lightbox.
Ability to scroll through images in the Lightbox with mouse wheel.
Updated Code.
Responsive Lightbox Gallery Widget - 1.4 - 11-10-2016:
Fixed issue with Lightbox thumbnails not showing in IE and Edge when adding an "Add-On" widget.
Responsive Lightbox Gallery Widget - 1.4 - 11-15-2016:
Removed dot navigation for Lightbox thumbnails in the "RLG - Images" widget.
Responsive Lightbox Gallery Widget - 1.5 - 12-14-2016:
Introduced the "RLG Single" widgets that allow you to trigger the Lightbox gallery from a single element or image.
You do not need to update the 1.4 version of the Responsive Lightbox Gallery.
Simply add the widget to your Adobe Muse website, style with the widget options, and done!
Share